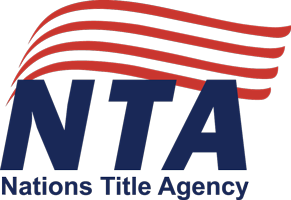 paid advertisement
Services Provided
After listing with Reozom, Nations Title will contact you
1. We will answer questions you may have and help you prepare for your entire transaction.

2. We will provide you with an estimated settlement sheet showing all title associated fees.

NOTE: Nations Title has no hidden fees and everything is fully disclosed up front. Unless special circumstances apply, fees associated for the seller are paid at close and received from the proceeds of the sale.
Once an "Executed Purchase Agreement" is received
1. Once a fully executed "Purchase Agreement" is received, a full title search will be performed to ensure clear title and provide a title commitment.

2. After title commitment is completed, we will review it and provide sellers advice and if any documents are needed such as home owner's association letter, lien discharges etc.

3. At that time we work to clear title issues that may be needed for the sellers

4. Nations will make contact with the buyer side agent and title company if using someone other than Nations Title and inform them we are representing the seller. We will continue contact with them through the process in preparation for the closing.
Closing details
1. Once the buyer is clear to close, the closing time and date will be confirmed with buyer and seller. The buyer and seller may choose to close together or at a separate place and time. Nations will coordinate this with you.

2. You will receive a closing package with all the final numbers to review with Nations Title before closing.

3. Closing can be scheduled at any time or place that works for you.

4. We will always have a closing agent from Nations title at all closings representing the sellers and explaining the documents.

5. Once closing is finished, we ensure check disbursed at the closing table. Many sellers choose to have their funds wired into their bank account. This is available if that is more convenient to sellers. Please note in order for your check to be disbursed at the closing table the buyer must close prior to the seller or at the same place and time.
Contact Information

Marci Hoffman
269-806-8834
mhoffman@nationstitle.com